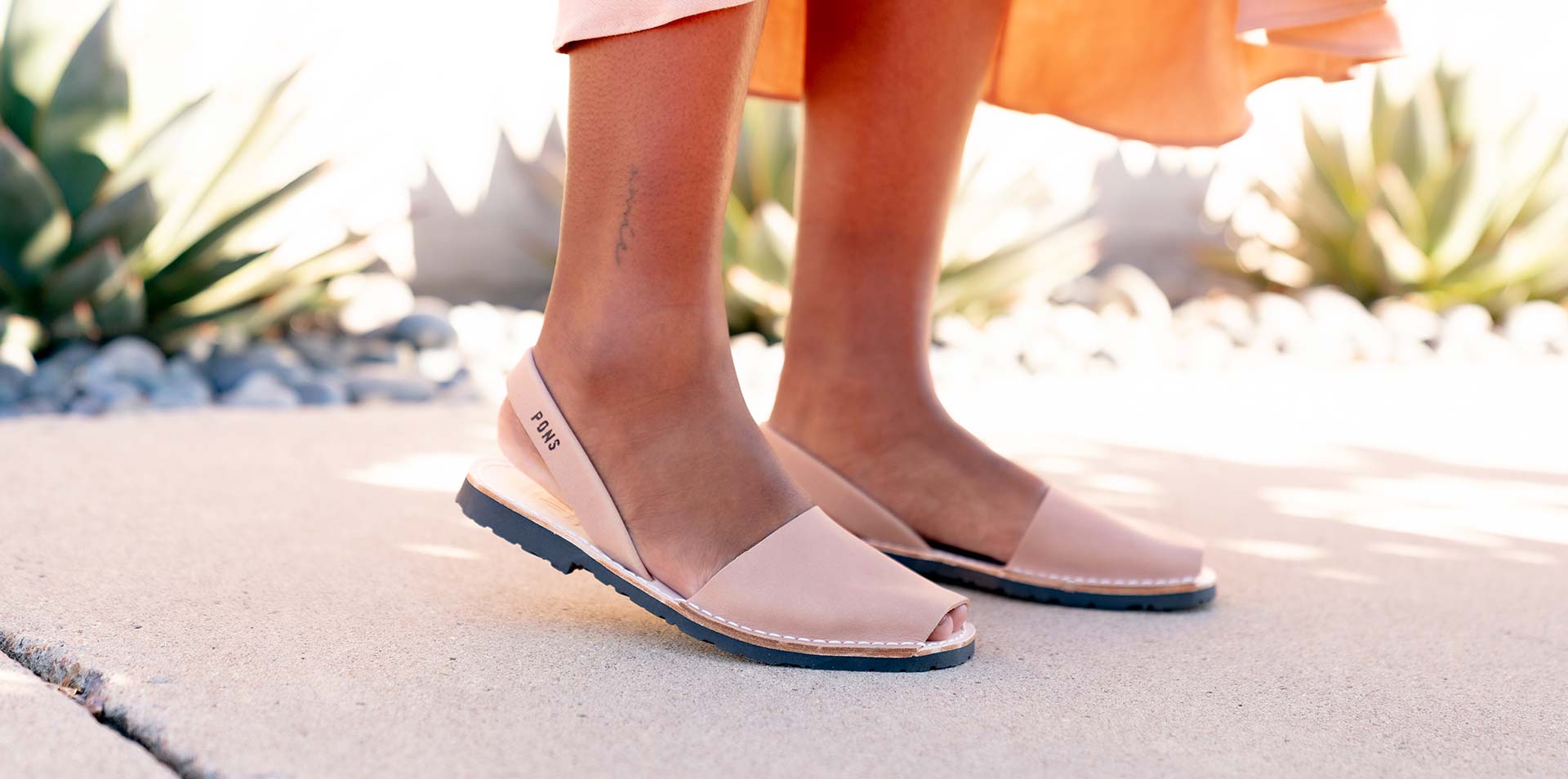 FAQ
Are PONS avarcas handmade in Menorca, Spain?
Yes, PONS avarcas are handcrafted in Menorca. Only genuine avarcas carry the "Avarca de Menorca" tag a collaborative effort between the local government and the shoemaker association to ensure the highest quality standards while preserving and protecting the artisans and tradition of the island.
Are PONS shoes sustainable?

Made since 1945 on the Spanish island of Menorca, PONS are ethically made by hand with sustainability and longevity in mind. The raw materials are all sourced locally in Spain, including the rubber sole (the classic style features a sole made from 10% recycled tires) and the high-quality natural vecchio leather— which is sourced from ethically raised livestock. Available in 40+ different color ways, PONS are chrome dyed to strict EU REACH standards. The PONS workshop (in Ciutadella) is owned and operated by the third-generation of the PONS family and employs about a dozen local craftspeople, some who have spent their entire adult lives honing their shoemaking craft.
Do we ship all over the US?
Yes. We deliver to all states within the United States (Hawaii, Alaska and Puerto Rico included) from our warehouse in San Diego (California). Please notice that different shipping fees may apply depending on the shipping address.
Do we ship internationally?
Yes, we deliver all over the world. Please notice that different shipping fees may apply depending on the shipping address.
Do we ship to P.O Boxes?
UPS Does not currently deliver into P.O boxes, however, USPS does. It is up to our discretion to use the proper shipping carrier to ensure your package gets to you safely and on time. Keep in mind that when entering in a P.O box as your shipping address we may use UPS, and if that is an issue we advise to not use a P.O box address.
I wear a half-size and you carry whole sizes. Which size is right for me?
We recommend that you check our size conversion charts for specific measurements of the style and model you are interested in. Please note that our PONS avarcas and Laro espadrilles have different sizing charts and recommendations as they are two different brands:
• PONS Avarcas: Since the leather will stretch slightly with wear, most of our half-size wearing customers find success choosing the smaller of the two sizes they are in between. You should compare your foot measurement with our sizing chart to make the best choice.
• Laro Espadrilles: Most of our half-size wearing customers find success choosing the larger of the two sizes they are in between. Please check our sizing chart to make the best choice.
Do we work with retailers?
If you are a retailer interested in selling PONS avarcas, Laro espadrilles or AvarcasUSA Collective Bags please email us at sales@AvarcasUSA.com and we will contact you shortly.
Do we offer Gift Cards?
Yes! The Avarcas USA Gift Card will never expire or lose value. We send it anywhere in the world via standard shipping (48 hours, 1-2 business days). Our gift cards have no additional processing fees. If you need the gift card to be used immediately, we can provide you with the electronic version within 24 hours. Gift cards are non-refundable.
What is a Pre-order?
Pre-orders are a way to order an item before it is available, with the understanding that said item will be shipped at a later time when it arrives at our warehouse. For orders that contain pre-order items and available in-stock items, we will ship them together once the pre-order shipment arrives. If you have a preference of when we ship your order for non-pre-order items contact us at customerservice@avarcasusa.com
Are Outlet items Final Sale?
Yes. We are happy to offer a selection of our products at a reduced price. These are new PONS avarcas, Laro espadrilles and hand-woven market baskets that have qualities characteristic to genuine leather and handmade products which may include a light scratch, slight color variation, or a natural mark. Fit, sizing, and durability are not affected.
All items available through our Outlet section are FINAL SALE, and not available to be returned or exchanged (no exception).
Do you offer Promotional Codes?
Yes. Sign up for our newsletter and you will receive seasonal offers and promotional codes. Valid Promotional Codes are only aplicable to full-prized items. Promotional Code Offers may not be used for items listed in the Outlet Section. To apply a promotional discount click on "Apply Promo Code" in Cart, enter the code and click the "Apply" button before Checkout.